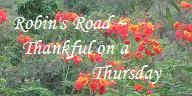 Sometimes my heart is filled to overflowing with thankfulness and today is one of those days. However, I must admit, sometimes I forget how fortunate I am in love, in my life, in my health, in my prosperity, in my heritage - and in taking it all for granted I tend to live in a more self-centered way.
Sometimes life just happens around us and circumstances help us remember to stop and just be filled with a spirit of praise and thankfulness and respond to it in good ways.
My reminder this time comes two-fold – well, at least as a wife and Mom these two situations are what have impacted me this week.
The first is the death of a Mom who was a friend of my oldest daughter – a sudden, tragic death that jerked her abruptly from her 3 young, tender sons and a husband who loved her. In a heartbeat their lives were changed forever.




The other is another lady who is due to have a serious open-heart surgery in less time you can shake a stick at … and it's scary for all concerned. She is also the Mom to 3 sons, not so young as the first but, still young enough to desperately need their Mom and she is loved dearly by her husband.



Oh my, you just have to stop every so often and remember to pray for others. Do for others where and when you can. Show your thankfulness in manifest ways not just by mouthing the words. Show your gratitude for your life, loved ones and health by giving back, by making a difference as often as you can.
I'm not sure where this thankful heart will take me today and tomorrow but I love living in awareness … just praying now I will be used as the Father sees fit.